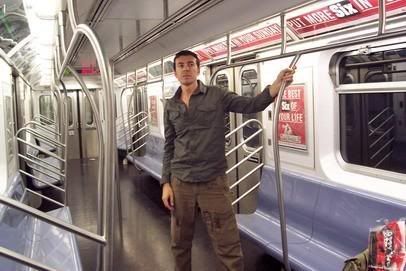 Aria is EXTREMELY honored to welcome back brilliant multi-instrumentalist and remixer, Chris Joss!
I first interviewed Chris back in April of 2006. Then, he [Chris] was immersed in a highly prolific year that included outstanding remix work for the likes of Joe Bataan, Jody Watley, Yerba Buena and even legendary Big Band leader, Woody Herman (for the '06 vintage remix collection, Big Band: Remixed and Reinvented). These days, Chris is quite a bit more well known – and deservedly so; his perennial classic – "The Man with the Suitcase" – was used in a movie trailer for last year's Ocean's Thirteen. Now, the multi-talented Joss has returned with a brilliant new album titled, Teraphonic Overdubs!
Well – let's start with the obvious. You've been quite busy since our last talk. Indeed, your reputation has only GROWN since that interview. In addition to movie trailers, your music has since been featured in television, video games and films. Indeed, "Shellah V." was featured on the soundtrack to the Spanish motion picture "Ladron que roba a ladron". "The Man with the Suitcase" is one of your seminal classics....
1. Were you surprised to hear "The Man with the Suitcase" played in the Ocean's Thirteen trailer?
I was really pleased, of course. 11 years after I'd made the track; that's – for me – a good sign of longevity.
Well – first I should be asking...
2. Were you approached about its usage in the trailer?
Well – not personally as I don't deal with that side of the business. But my label, ESL, was totally involved with it.
As noted, you've done some magnificent remix work in the last few years. Of those mentioned (and any NOT mentioned)....
3. Do you have any favorites?
I like them all. I spend nearly as much time on a remix as I do on my personal tracks, which is why I don't do many and turn down most of them – so, when I finish a remix, I'm happy with it. The forthcoming Bebo Valdez for Sunswept music is quite funky; I was happy with the one for Thunderball – having vocals from Afrika Bambataa was cool and I got a killer bass drum sound on that one by putting a new mic in the hall beside my studio and playing with a frequency filter. Also, I got the separate tracks of Frank Sinatra's "This Town" recorded by Lee Hazlewood; I had different takes, recorded on 4 tracks. It was such a thrill to hear the tracks individually, hear direction and comments. Unfortunately the remix I made was refused by Sinatra's estate.
4. Do you have any plans or desire to contribute productions the albums of other established artists?
I just finished producing a track for Los Amigos Invisibles for their new album which will have each track produced by different artists. Other than that, no particular plans…
I see from your MySpace profile that you have traveled quite extensively in the last year; New York – D.C. – Ibiza....
Well – extensively is maybe not the right word when comparing touring acts and/or travelers. I'm not a good traveler – I don't like planes – but I had a great time in all three – although I have to add that Ibiza was out of season and a totally different place from what people might imagine.
5. Any favorite spots?
Well, NY has so much energy; it was tough coming back to my small town (which is why I went to Ibiza right after). But, meeting the ESL team and visiting museums in DC was fantastic too.
6. Where would you like to go next?
I definitely want to go back to DC and NY this spring – and (probably) Ibiza too; visiting other parts of the U.S. would be really cool.
7. Did your travels inspire you in the creation of the new album?
Well, Teraphonic Overdubs was finished in February of last year. It took a year to come out for reasons I had nothing to do with. And the fifth album – which is almost finished now – was recorded before my trips, But I took my computer to Ibiza and worked on the tracks there and the laid back hippy vibe from Ibiza corresponded well to the sound of it. It's going to be psychedelic and funky!
And on that note, let's talk about the new album! Teraphonic Overdubs is (in a word) BRILLIANT! One of the things that set your work apart is your ability to incorporate samples into your intricate productions. This concept has fascinated me since the heydays of Deee-lite! That said, the uninformed would sometimes be tempted to just summarize your sound as "retro", or retro-electronic, but in my opinion, it's far more than that; it's CINEMATIC in scope!
Thank you!
8. How do you locate the samples and loops used in some of your tracks?
There are samples in four tracks, if my memory is good: the scratchy bossa nova loop at the beginning of "Count the Daisies" comes from a '60s cover record. Using samples is a dangerous game, but telling where they come from is suicidal! One day, I found this site that has tons of public domain movies; I have three or four videos that I don't have time to finish using bits of these. Public domain enables you to do whatever you want with the material and I've also collected lots of sounds from these. When I was in the hospital for two months and couldn't play instruments, I was making tracks with these samples with my left hand, while the right arm was in a machine for hours everyday. "Get with it" is the only one that survived that period. I had in mind to release all these "hospital" tracks as a side project, but the feel coming out of these tracks is too dark for my liking. In "...Freedom", the vocals come from different vinyls that I've scratched. "Surgelator Action" and "Get With It" have vocals coming from public domain movies. All the other sounds on the album are played or sung.
"Get With It" is hot! That and "I Want Freedom" are personal faves...
9. Is the orchestral string sweep playing in "Get With It" a loop?
The string loop – which I've edited to change the notes – comes from a public domain movie; I'm hoping the music does also, but it's just impossible to find out. The final break in that same track (just before all instruments come back in) had another sample, but I've re-created it because I wasn't sure the music was public domain either, and the movie it came from was from around '68, and it might be some library music (i.e. copyrighted). I've become quite good in recreating very old samples since the Inside Deep Throat episodes.
10. What are you listening to these days?
Lots of '60s and early-'70's funk, library and soundtracks. I'm also checking all artists that request friendship on MySpace – my top friends reflect my tastes, although I'd love to be able to change it more easily to include new finds. I was just listening this morning to the forthcoming album from Smokey Bandits who remixed "I Want Freedom" coming out on an EP very soon alongside Atfunk and Myagi.
11. What's next for Chris Joss?
Well – the fifth album. As much as Teraphonic Overdubs was very long to make due to the long months of disability – and also the many tracks I had to throw away because I didn't like the result – this new album is building up pretty fast. As I may have told you before, the reception of You've been Spiked was very cold – to say the least – so I experimented in mixing the real instruments I'm using – drums, bass, guitars, keys, percussions – with more electronics. During the '90s, I was doing a lot of electronic music, house, techno, ambient and lots of drum 'n' bass before coming back to my instrument playing, so I tried to mix these two different worlds, but it didn't work on most of the tracks.
On the album I'm working on, I was liberated from the weight and the impossible task of trying to please the critics; now I've got listeners giving me their support on MySpace mainly. Also I have new instruments; the sitar has been used a bit on 'Teraphonic, but it is used a lot on the forthcoming one. While on the subject, I've read in several reviews that I'm using a "faux-sitar"; I don't know what that is – I can only say that mine is REAL! I also got a double bass. Several tracks were inspired by these new instruments and the recording went quite fast. Now the finishing touches take a lot of time, as they always do, but hopefully the album will come out early next year if all goes well!
You can visit Chris Joss at MySpace and at his official site, http://chrisjoss.free.fr/.
Related: Mervin's 15 Questions with Chris Joss
Categories: Chris Joss; Teraphonic Overdubs; Ibiza; Ocean's Thirteen; downtempo; Thievery Corporation; movie themes