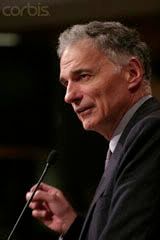 Wonder of wonders...
As if to blunt the momentum of a recently re-energized Democratic Party, consumer advocate and perennial presidential candidate, Ralph Nader, has again tossed his hat into the rapidly dwindling ring of prospective U.S. presidential candidates. Nader announced his candidacy on Sunday, February 24, on Meet the Press with Tim Russert.
Ralph's timing for the announcement is odd, but – given his past presidential attempts – not entirely unexpected. Contrary to most reports – which are stating this as Nader's third run, this latest 2008 bid actually qualifies as his [Nader's] fourth; Ralph ran in 1996 and – most infamously – 2000 as the Green Party candidate, and again in 2004 as an independent.
Nader's aforementioned 2000 run remains the defining moment of his political career; one of the most closely contested U.S. presidential races in history, that contest [2000] saw then-Democratic presidential candidate Al Gore loose the highly contested state of Florida by a few percentage points – a fact attributed to Nader's presence in the race, as it is widely speculated that the few votes taken away by Nader would've went to Gore and not Bush. Katherine Harris, Bush's brother Jeb and the Supreme Court also figure into this as well, but there is no denying Nader's role. It has since been found that Gore actually won more popular votes than Bush, but the U.S. Supreme Court's involvement sealed the proverbial deal for the Republicans.
Honestly – I don't know what Nader hopes to achieve. I don't buy his contention that he [Nader] would've stayed out of the race had the Dems chosen Edwards (or even Kucinich) as their frontrunner. More, one of the main planks on which the consumer "advocate" [Nader] prides himself – healthcare reform – has been extensively discussed by the two remaining Democratic candidates, Barack Obama and Hillary Clinton; while not Nader's own single-payer plan, Clinton and Obama's respective positions are – at the very least – steps in the right direction. Also, Ralph's own "anti-corporate" platform – while speaking a great many bitter truths about corruption in Washington – seems rather vapid when taken in context with the fact that he [Nader] is a bestselling author who has continually marketed and published his books via corporate-owned media and/or publishing. Heck, Nader – a man who has long prided himself on "social justice" – said next to NOTHING when the Florida fiasco (to which he is forever linked) saw a disproportionately high number of African-American voters disenfranchised and intimidated at the polls. And though Ralph Nader has continually stressed his desire to bring third parties into the fold, it could be argued that his run in 2000 has all-but doomed a great many such parties with the "spoiler" stigma; the Green Party is seen as FAR less legitimate since his coming (and going) that year.
Sadly, Ralph Nader hasn't seemed (intellectually) honest in years. I can remember in 2004 – when he ran as an independent – he claimed that he was going to peel off votes from the Republican Party as a great many of them were disillusioned with the war in Iraq and Bush's record deficits (?). He knew that statement was untrue when he made it. By that reasoning, I – as a left-leaning independent who's occasionally disappointed with the Democrats – would go vote for Pat Buchanan or David Duke (?) – ridiculous!
When all is said and done, I think Ralph Nader has a very personal ax to grind with the Democratic Party. I don't feel that his presidential pursuits are ego-driven as most have suggested (though there is no denying that there is an egotistical aspect to much of Nader's rhetoric) – nor do I feel that he is "senile" as others have surmised; no – I think Ralph Nader's continued attempts for the highest office in the land are nothing more than cold hard acts of vengeance. How else would one explain his continued attacks on Democrats – even those who entertain his ideas and try to slowly incorporate them into their platforms? Indeed, am I the only one that noticed that when Nader ran in 2000, he continually leveled political attacks on Al Gore and said next to NOTHING about George W. Bush? Also, in 2004, Nader consistently attacked Kerry and the Democrats for trying to "keep him off the ballot", but was nowhere NEAR has critical of Bush and the war in Iraq. That same year [2004], Nader even added insult to the social injury of thousands by speaking in front of the Congressional Black Caucus and totally dismissing their fears on his run; in case he and his supporters haven't noticed, African-Americans have been some of the hardest hit by Bush administration policies (or lack thereof)!
Ralph Nader is a man with an honorable background of taking corporations to task and empowering consumers against these selfsame corporations. However, his ongoing presidential aspirations – which reek of vengeance and (consequently) estrangement – continue to taint his brilliant legacy.
Take a hint, Ralph! It's not your running for president, but your motivations for seeking the presidency that make people doubt you!
Categories: Ralph Nader; Barack Obama; Hillary Clinton; 2008 election; healthcare reform; spoiler