The 79th Annual Academy Awards: A Dreamy Affair
Last night's Oscar broadcast was a stellar spectacle to behold. Director Martin Scorsese – who, in the past, had been nominated 8 times overall – 6 of which (this year included) were for direction – at last received this year's Academy Award for Best Director for The Departed. Actress Helen Mirren and actor Forest Whitaker won Oscars for their portrayals of historical figures – Queen Elizabeth II in Mirren's case, Idi Amin in Whitaker's – in The Queen and The Last King of Scotland respectively. Actor Alan Arkin won honors for Best Supporting Actor for his work in Little Miss Sunshine.
As predicted, singer/actress Jennifer Hudson walked away with Best Supporting Actress honors for her portrayal of Effie White in the big-screen adaptation of Dreamgirls. Hudson's win is spectacular on many levels, not least of all her much-publicized humble beginnings as an immensely talented, but sorely overlooked contestant on the Fox "reality show", American Idol. Indeed, Simon Cowell – the show's resident "brutally honest" judge – (in)famously said to Hudson: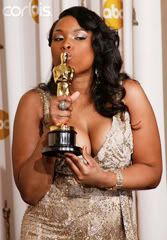 "I think you're out of your depth in this competition."
In the end, Jennifer Hudson proved that American Idol was but a stepping stone to something much better. She owes 'Idol – a program that made a weekly sport out of spurning her and her considerable talents – little or nothing.
Congratulations to all of the 79th Annual Academy Award winners!
Categories: Martin Scorsese; Forest Whitaker; Alan Arkin; Jennifer Hudson; Academy Awards; American Idol
Posted at 07:49 pm by
Mervin Malone