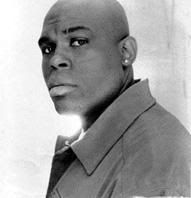 Aria is honored to welcome house music pioneer and innovator, Byron Stingily!
Well, let's start with the sound you helped usher into the public consciousness…
House music – the genre – the very feeling it inspires – embodies some 25+ years of dancefloor euphoria, cross-cultural/pansexual unity and sonic innovation. Your highly prolific career parallels the genre's longevity and adaptability. Looking back….
Are you surprised at how resilient house music has shown itself to be?
Yes and no. I mean – it's dance music; people are always gonna want to dance to uptempo music, so I figure it's always going to be around in some way, shape or form – always.
While we're on the subject, your former band – Ten City – occupies a unique place in musical history; Byron Burke, Herb Lawson and yourself gave house music its first authentic band. 'City recorded and released outstanding singles as well as brilliantly conceived and textured albums.
When the three of you – and Marshall Jefferson – formed the band so many years ago…
Were you all aware then that you were at the forefront of something so innovative?
We knew that it was a real good underground scene at the time – Chicago. I know I definitely wanted to be one fo the first people to expand it [house music] outside of Chicago. It was a consciousness we felt – we wanted to give everyone a chance to love it as much as we did.
Are you still in touch with your former bandmates, Burke and Lawson?
Not really. I see Byron online from time to time. Marshall is living in Europe and doing quite well as a DJ. I talk to each one of them, maybe once a year.
You hail from Chicago. I've long admired the Windy City's affinity for birthing soulful visionaries. Donny Hathaway; Curtis Mayfield; Minnie Riperton – they all came from Chicago. By the way – your cover of Minnie's "Stick Together" is superb!
Thank you.
Which singers most influenced you in your musically formative years?
All of the people you just named. Curtis – Earth, Wind & Fire (with Philip Bailey); on top of that – Eddie Kendricks, the Temptations, Minnie and Sylvester. The top three would probably be Michael Jackson, Prince and Sylvester.
Your voice – its range and depth – is revered by dance, soul and R&B aficionados alike. Indeed, you're often compared to another great dance music icon – the late, but legendary Sylvester. I feel you're about the only male vocalist alive today that has ever done any of his songs justice – your 1998 cover of "You Make Me Feel (Mighty Real)" was just breathtaking! I know Sylvester received much of his musical training in the church.
Are you formally trained or self-taught as a singer?
Self-taught.
Have you always known you wanted to be a singer?
I had a talk with someone about this the other day. Actually, I always aspired to be – moreso – a Berry Gordy-type. I always wanted to have my own label. I started out quite introverted. Being an artist – out front – was something I didn't want to do in the beginning.
You're also a highly prolific songwriter; you composed many of Ten City's best tracks, wrote a majority of the music on both of your albums, "The Purist" and " Club Stories" and have written hits for other artists (Kim English's "Nite Life" comes to mind).
Where do you most often draw inspiration when composing songs?
Just from different people and different things. I listen to people talk – friends of mine – they tell me stories and talk about things they're going through in their lives. Life and such...
Now, I'd like to switch gears and talk about your solo album work.

Your 1998 debut, The Purist, is one of the most soulfully innovative dance releases in recent memory. You worked with many of dance music's finest producers: Frankie Knuckles – Kenny and Louie – Mousse T. – Maurice Joshua – Basement Boys….
What led you to each producer?
Respect for all of their work. Being in a group all those years – we pretty much kept everything self-contained – all writing etc. When I started my solo career, I finally decided that I was going to take the time to work with all of the people I'd wanted to work with for years.
Your 2000 follow-up – the aforementioned Club Stories – had a decidedly nostalgic feel (if not intentionally). There was the fore stated Minnie Riperton cover, "Stick Together", as well as some slight allusions to disco ("Stand Right Up"). Your re-recording of the Ten City classic, "That's The Way Love Is" was an excellent standout! I asked Joi Cardwell this same question because you both come from a similarly soulful direction …
Have you ever pondered doing a neo-classical soul album?
That's something that I've always wanted to do – record a neo-soul album and have it remixed to club music. I'd release the soul versions on an initial album, then an album of remixes within a couple of years.
For Club Stories, you enlisted the production talents of D'Influence, Danny Tenaglia and Andrew "Doc" Livingstone. You also worked with Towa Tei on his 2005 album, Flash.
Who would you like to work with next?
Well, I plan to do some more uptempo things. I like the higher energy things going on in Europe. I've been listening to things from the Credence label. I want to try some different things to reach a newer audience.
Your recent tracks – "Hate Won't Change Me", "Something Better", and "Walk Away" – are excellent!
Are these from a new forthcoming full-length?
Well, I recently recovered my [singing] voice; I had some nodules growing on my vocal chords, but it seems to be healing itself. The vocalist on "Something Better" is Reggie Hall, and EL sings on "Walk Away".
What are you listening to these days?
I'm listening to a lot of dance music – everything I can. Masters at Work, Terry Hunter on King Street – inspirations. With me starting this label [Stingily Music] – I want to see what things I can incoroporate – what I can do.
What's next for Byron Stingily?
I'd really like to get my label established and off the ground. And maybe another Byron Stingily album...
You can visit Byron Stingily on the web at www.byronstingily.com, and on Myspace at www.myspace.com/byronstingily. Also, look for music by Byron on iTunes, and – more recently – traxsource.com, where you can experience his writer/producer side on tracks like "Something Better" and "Walk Away".
Categories: Byron Stingily; Ten City; house music; Philip Bailey; Eddie Kendricks; Donny Hathaway; Minnie Riperton; Chicago